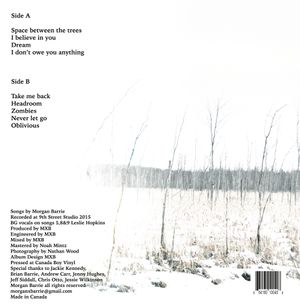 "

Instantly, trancelike sounds are introduced to your eardrums, creating a clear space for Morgan to clearly express himself, in not too many words. Calming enough to make you lay down, yet powerful enough to awaken your spirit."

In the depths of the pandemic, Morgan buckled down to complete his third album, Lines. This newest album is truly a listening experience, an ambitious yet seamless concept album that takes listeners on an epic, heartfelt journey through the human struggle to make sense of their place in the world around them. Barrie's solid musicianship, composition and production is enhanced by a rich tapestry of collaboration woven throughout the album with contributions from an array of notable artists including Lisa Lobsinger, Kyle Crane, Mark Mariash, Aaron Goldstein, Tyler Beckett, Matt Epp, and Christina Martin. Morgan continues to develop his abilities as an artist and a producer in his home studio in Owen Sound. Through his experience playing live and recording albums Barrie has learned how to connect with listeners and tell stories important to today's complex environment.
Morgan finds a way of opening the channels to your soul, singing about challenges all generations collectively face in the 21st century. He's raw, honest, and slightly haunting. Morgan's songs encompass topics of love, waste, and loss in equally passionate terms. As an artist, Morgan takes control over all elements of the production process. From composing his music to recording, engineering, arranging and mixing the final product in his personal studio. Leaving nothing to chance, his ambitious oversight delivers a unique, personal and powerful sound signature. 2017 saw Morgan release his debut solo LP 'North' which was received with modest success. To promote the album, Morgan performed several sold-out shows and strengthened his music community.  
Following the success of 'North', Morgan released his second full length album. Fall (2018), is filled with beautiful soundscapes. It displays a subtle, yet palpable, angst over the state of humanity. Songs from Fall hit the top 10 list for the CFRC Kingston station, were played on CBC North, and have received praise from music critics across globe. Morgan's music has also been showcased internationally. Touring across Germany and Switzerland, Morgan opened for Matt Epp on his 2018 European tour. As follow-up to his experience overseas, Morgan secured his own fully booked three-week tour through Germany and Switzerland in 2020. As we all know, the world had a different plan and the tour was postponed until further notice.